So today has been one of those days, so much potential…then nothing. We woke up with a list of jobs for the day and felt good after a relaxing evening and a good nights sleep.
First up, buy paints for decorating the classrooms and toilets. So we jumped in the car, we have previously been to the warehouse and had a quote so needed to go via the bank first to withdraw enough money. Got to the bank, only our cash card had insufficient funds on it, so that plan has had to be put on hold until tomorrow.
Second, meet with Pastor Gatsi and Pastor Musora. This was scheduled for the afternoon, however it soon became evident it had never been scheduled and the Pastor was stuck in a meeting with someone else. So plan 2 got halted, and hopefully on hold until tomorrow.
Thirdly, we wanted to wire brush the walls of the classrooms and toilets to prepare the walls to be painted. Problem – Wire brushes are gone. We specifically bought 2 last week in order to carry out this job, but between now and then, someone has walked off with them. Plan 3 out the window.
After a day yesterday of sitting waiting for shipping companies to contact us – which took a huge chunk of the day and meant we couldn't leave our room or the building- and then another day today possibly turning into a second of sitting on our bed in our one room waiting for something that could be nothing- I decided to put my determined face on and search for the brushes. I eventually persuaded the security guard to help and he unearthed one of them – the second is nowhere.
So I have spent a little time brushing, now Greg is doing the same. It's a change from sitting looking at 4 walls.
It's becoming quite frustrating to keep reaching a point where we think – Great! We can do the rest ourselves! Only to then find other things which need other people to do, leading us back to a state of sitting and waiting for someone else to do their job (and slowly!).
So we have spent much of the time beginning to write up the documents we will need for the school – including registration forms, policies, home/school agreements and curriculum ideas. So being forced to sit and wait, has helped in some way to get these documents done.
But as you can see, an anti climatic day! So I am now going to heat up some water to wash in before the electricity goes, then decide on whats for dinner and pray tomorrow is a successful and fulfilling day!
We were fortunate today to be taken by Pastor Taaso to his mother in laws school which benefited us to see a different day care center in action and take a look at their paperwork also. He then took us to his house…which it turns out I have been to before! Along with my parents and sister, in 2007! They did not remember the visit however, so I promised I would find the picture. So here it is! In 2007…and now!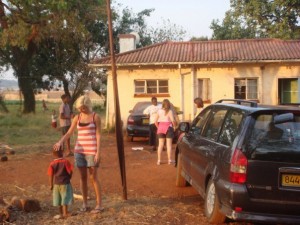 2007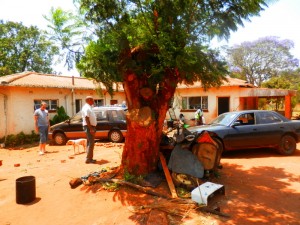 2012
Please keep in contact, we value correspondence highly!!
God Bless, G&S x
2 Responses to Anti Climax