Mon 20th Oct. Today I started painting the window frames and burglar bars at the primary school. Plus proving the teachers their computer lessons. Today I taught them how to create and design tables which will put them in good stead when they come to write their lesson plans. I was also asked if I would read the stories to the grade 0 class, which I happily obliged, however they had me read "The Gruffalo" and "I don't like peas" for what seemed like the millionth time! But they loved it so it made it worthwhile
Tues 21st Oct. Today was Ropa's birthday and she bought in a delicious cake for everyone to celebrate with. I continued with the window painting, tested the teachers on their 'inserting tables' ability and did the boys swimming run. Whilst they were swimming Leeshy has been learning the Highway Code for her provisional licence, so I thought it would be fun for her to take a mock theory test on my iPad. Needless to say she failed as the driving rules and regulations are a lot stricter in the UK than in Zim plus they don't have motorways or snow! So all in all a good effort with 76% me thinks!!!!
Weds 22nd Oct. Today was Michaella's birthday and we had another cake, this time a Little Mermaid one, plus ice cream, crisps and sweets and tiaras for the girls so we had a party after lunch. All of the children loved the music and were singing and dancing away to it! I also finished off painting the outside window frames and burglar bar and French doors, next week will be the inside!
Thur 23rd Oct. Admin time! Today at One Central I reviewed the job descriptions, made a few adjustments to them and then typed them into a new template as we only had hard copies of them. I then created a team structure chart which I'm very impressed with even if I say so myself! Sean also wants to be able to takedown and track the electricity and water meter reading, so I created and excel spreadsheet for this along with the formulas to calculate the kilowatts used and the cumulative figure. After so long not using a laptop my eyes were popping out my head by the end of the day……how easy it is to forget my old life hahaha!!!!
Fri 24th Oct. Today I went through the job descriptions and team structure with Thandie. I created a template for staff appraisals, then went to work on sprucing up the 'Mission, Goals, Values' PowerPoint presentation Sean had created. I had 2 slides left to complete at the end of the day which I was lacking inspiration for, luckily it started to spit and after being caught in the storm last week I felt this was sign to leave them until next week and head for home incase the heavens opened again!
Take care,
Ali xx
Mon 27th Oct – half term. Day off today however I did design the Graduation Certificate during the power cut fingers crossed the staff like it
Tues 28th Oct. Back to painting the remaining windows at the primary school. I also held the computer lessons and was very proud of all of them as they had remembered most of what I had been teaching them before half term and they had also been practising over the break. I also did the boys swimming run in the afternoon and upon returning we had another birthday cakeas it was Tino's birthday.
Weds 29th Oct. Today I finished off painting the outside of the windows and burglar bars. In the afternoon Pru & I had a brainstorming session on fee charging using a couple for different options looking at all income and expenditure and forecasting profit/loss. This was then presented to Greg in the evening over Skype and a favourable decision was made.
Thurs 30th Oct. Return to One Central where I had a very exciting day. When I arrived Sean said he had a big task for me for the next 2 days…..setting up the food bank. I jumped at the opportunity. First off I designed the currency we would use. These unit vouchers would be used in exchange for food and clothing. I then created the price list for items in stock. Then in the afternoon I sorted out all the donations received so far into mens, ladies, children, trousers, t shirts, tops, jackets etc. this is something totally new for me and I thoroughly enjoyed it…roll on tomorrow
Fri 31st Oct. At One Central Jackie, Thandie and I had a brainstorming session on how to tackle the admin needed for the smooth running of the site. We discussed methods we would use and decided on our priorities for the next few weeks. This was a very fruitful and positive meeting. I then continued with my tasks needed to set up the food bank. With the help of Debbie we made some make-shift selves and table plus some 'display cabinets' using anything and everything we could find in the leftovers from the hall renovations.  We then bought over all of the donations and placed them and displayed them in the 'shop'. Despite no budget I think we achieved a great look! I then printed out the money, stamped and serialised them and created an issuing register to prevent fraud.
There won't be a blog next week as I am off to Victoria Falls and Hwange National Park for a well earned rest and to see some
Thanks!
Ali xx
Mon 13th Oct. Back at the primary school I continued with the second coat of paint to the staff toilet walls leaving only the edges for the following day. The computer lessons for the staff are also progressing well, this week I showed them how to insert pictures and shapes and how to change the format and sizing.
Tues 14th Oct. I finished the edges around the staff toilets, continued with the computer lessons, another exercise to test how much they are retaining! and took the boys swimming in the afternoon.
Weds 15th Oct. Glossing today! Testing my own skills at the art of painting I had to paint a free-hand skirting board around the staff toilets and a pretty good job I made of it!! I also painted the door frames, pipe work and window completing the staff toilets ready for Charles to tile the cubicle floors.
Thurs 16th Oct. Over at One Central I painted 2 more chalkboards, 1 in the babies room, the other in the over 6's, only in this room I was rather ambitious with the size and ran out of paint so I created a fireplace around the area unpainted until we can source more paint! I also used the remaining green paint in the 4-5 year olds room to paint more beams around the room and door frame.
Fri 17th Oct. After a week of painting a change of direction. I learnt how to clean carpets African style! None of this Hoover malarkey I'm used too
Week 3 – It's getting busy!
Here's last weeks blog. A bit later than usual as we had no internet all weekend even though we had some power!
Mon 22nd Sept Necktie Day – to fund raise for the primary school everyone was asked to come wearing a tie and pay a dollar. $41 were raised! As wearing a tie was the last thing on my mind when packing for Zim I didn't have one amongst my luggage. Fortunately Sherry took me to Borrowdale at the weekend and I saw plastic ones in the shop so I bought one for Pru and I. Mine had smiley faces and Prus had flowers. I was very impressed with the children's efforts many had come in a full suit!
I gave the nursery class a lesson on France and an overview of the components of a laptop. I also started basic computer lessons for Lorraine and Leeshy.
Tues 23rd Sept. This morning I saw something run across the back of the classroom whilst talking with Lorraine. "Oh it was probably a rat" she said all matter of fact and went over to the blankets where I saw it go. She nearly got to the bottom of the pile when it ran out over her foot making me scream and run out the door! Lorraine and Wilson got sticks and whacked it over the head – dead! Urghh! Finally the animal police came with the trap to capture the mother dog. When she is caught they will take away the puppies who are now beginning to make quite a racket! Today I gave the nursery class a lesson on England. As they are younger than the grade 0 class they weren't quite as intrigued by the Queen!
The afternoon saw swimming lessons for the boys, the new car with its extra space in the back came in very handy. They are making great progress with their swimming.
Weds 24th Sept. After buying ice cream for the Grade O class so they could experience the cold as they are learning about Antarctica this week, I uploaded the swimming lessons photos and those from the trip last week onto the school website. In the afternoon I was back at the primary school continuing with the scraping off of the loose paintwork this time to the school office whilst Charles was fitting plug sockets.
Thurs 25th Sept. Over at Tara Hall the community hall was ready to have its ceiling painted. After a short while I managed to break the roller extension pole I was mortified and didn't realise my own strength! Only for Terence to start laughing as he had done the same thing a couple of days before so Neil had taken it back to the shop and argued a replacement. Fingers crossed he can work his magic again! So with that I was unable to continue with the painting and left Terence and Nomore to it. I went back to the Kids Work room to continue with the paint scrapping where the only damage I could do was to my knuckles!!! Later in the day Sean asked if I would be his administrator next week at the Zimbabwe Without Orphans – Dream or Reality conference and help him organise the set up before hand. This is a fabulous opportunity and a wonderful challenge so was only too pleased to accept. I know have to get my thinking cap on a the weekend yo make this task a success 🙂
Fri 26th Sept. The day was spent at Tara Hall continuing to scrape the walls of the Kids Work room. It was Nomores birthday so at lunch we shared a cake in celebration!
Take care,
Ali x
Ali's blog – 2
On 15th Sept back to school. The puppies are still living in the pipe so a call was placed to the Animal Friendly people asking them to remind the animal police to come with the trap to capture them. The children are learning about the world this term and are going on a trip to the airport so to help them understand what it is like to travel abroad I made them each a pretend passport using resources I found on the internet. Charles needed some money for materials for the primary school so I had to drive to Avondale then Westgate to use the cash machine. I'm definitely getting the hang of driving on the potholed roads and avoiding the crazy combi drivers! It's not easy find you way around when there are no sign posts!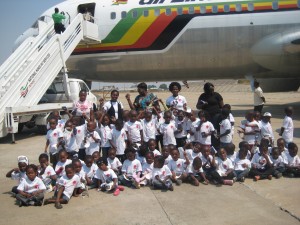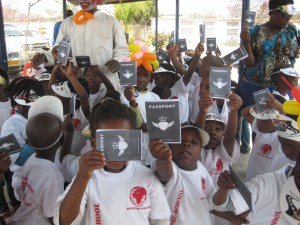 Kids on their school trip to the airport – so proud of their passports and many of their first time seeing a real aeroplane!
Tues 16th Sept I gave Pru a lesson on pivot tables, and those who know me well will know I was in my geeky element 🙂 I also started giving computer lessons to Rumbi hopefully I didn't confuse her too much! I took photos of every child so that we could complete the passports and printed them so they can be stuck into the passports. They are all so excited about the trip. I also gave them a lesson on the United Kingdom explaining which countries it is made up of (the referendum aside!) I showed them the English money I had with me, my passport, the union flag, the Queen, Buckingham Palace, Tower of London, red busses, black cabs and a tube train. I also explained that the weather in England was cold and rainy and that they would need coats, hats, gloves and scarves in the winter which they didn't seem impressed about and understandable so considering the weather here is fantastically sunny and hot! I then opened the floor to questions and they all wanted to know where the Queen slept and what her bed was like and how much gold she had! My cheeks ache from smiling! In the afternoon they had another swimming lesson and I was chauffeur, this time I had 10 on the back seat! All was quiet on the way there but on the way back they were so noisy after the excitement of swimming it was hard to concentrate on the driving…
After leaving school for the day I thought my day was done but oh no! Pru received a call in the evening telling her that the fire on the waste ground had reached the school wall. We jumped into the car and raced over to see what was happening. The fire bridge had arrived but couldn't help as they had no water. Two fathers and the security guard were busy beating out the fire and succeeded before there was any damage to school property, phew, never a dull moment in Zim!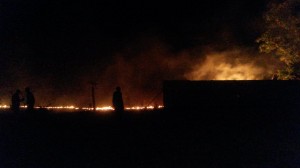 Weds 17th Sept during the morning I helped Patience tell the class about France. They learned how to say 'hello, how are you?' 'I'm fine' 'my name is….' And how to count to five. I was very impressed how quickly they picked this up. They also learnt that the French eat snails and the faces they pulled at this had me chuckling to myself! I then joined Charles for the afternoon helping with the primary school renovations. I was scraping off the loose paint from the walls and windows of one of the new classrooms. The school is definitely taking shape, Charles fitted all the light fixtures today and 4 other guys were rebuilding the surrounding wall.
Thurs 18th Sept back at Tara Hall. Today I was on the floor chiseling out the concrete where the partitions had been ready for new concrete to be laid. I thought I was filthy last week but that was nothing compared to this! I then swept the debris from the hall which was back breaking! At lunch I was introduced to Zimbabwean peanut butter…..scrummy is the only word I would use to describe it, much better than ours back home! In the afternoon I filled in all the holes in the hall whilst Neil, Terence, and Nomore laid the new floor. I also picked up Sophie and Gregs new car so I now have my independence and managed to find my way home without getting lost!
Fri 19th Sept Today at Tara Hall I helped Debbie clear all the rubbish and debris in the area that's to become the playground. We also cleared out a small cabin which will be used to store all the play equipment and eventually may become a play house. After lunch I started scrapping off the loose paint from the walls in the room that will be used for Kids World. Before I started the wall didn't look too bad with only a few flaky bits here and there, how looks can be deceiving, I scraped a small loose piece only for the majority of the wall to eventually come away! The body has started to moan and groan a bit it's clearly not what it used to be thank goodness it's the weekend 🙂
Mid September and we are back to business, apologies for lack of updates over the past month whilst we have been spending time with friends and family and adjusting to life back in the UK for our extended time! (We are here until the end of December!)
This blog will hopefully serve to give you a few updates on where we currently stand and what the immediate future holds. We will then be sending our newsletter at the end of September with more detailed information!
Firstly, thank you so much to all our friends, family and supporters who have made our transition back to life in the UK much easier – we have thoroughly enjoyed being able to talk to so many people face to face! We are hanging around until the end of December, with baby Sangwine due around the beginning of November. This will obviously mean a re-adjustment and significant change in our lives and throw into the mix our return to Zimbabwe and we have a serious adventure to look forward to!
We are so delighted that Alison is our very first full time volunteer and has moved to Zimbabwe for 3 months to work with our schools project and also to be involved in a selection of other projects happening throughout Harare with people we are connected with. She has been there for 3 weeks and will return at the beginning of December. More details of her time volunteering will be made available through her blogs which will be uploaded to this website as and when we receive them – power seems insanely bad at the moment so communicating with Ali and with our school is proving intensely difficult!!
One Way Pre School has opened for it's third term and yesterday enjoyed a whole school trip to the traffic centre and airport (getting to sit on a real plane!) – I look forward to uploading photos as soon as I receive them. The staff team are working overtime to ensure the school continues to run in a positive and god fulfilling manner and I rest assured knowing the teachers are leaning on their training and providing a super curriculum for the kids. It's still taking Greg and I some getting used to that we are not teaching at the pre school anymore and have effectively handed over control of it….which was always the intention – but still, it's like giving up a limb!
Primary school updates (look out for newsletter) – The intention is still to open One Way School in January 2015 with ECD A and B (nursery/reception) and Grade 1 and 2, increasing our school capacity from 60 to 120. The process is taking a lot longer than anticipated and just this week, after a mammoth council meeting, we have been informed of some major changes happening not only to the education system – especially for ECD centres, but also to the registration process for both ECD and Primary Schools. This is naturally causing some aches and pains and is increasingly difficult for me to help sort out due to electricity and therefore communication issues. Hopefully in the newsletter I will have some more detailed information and hopefully it will be positive! This area needs some SERIOUS prayer.
In general, Greg and I are doing okay. Greg is fortunate to have a job as a Primary School teacher in Waltham Abbey for a term – enhancing his teaching skills, making some good connections and earning some funds! We have, however, had a pretty rocky start to the term with first Greg being knocked off his bike and fracturing his elbow, to then having OFSTED in the 2nd week of term, as well as me falling at a train station ending in a hospital trip also- fortunately no serious damage and a safe baby. This is having some knock on effects with our mindset and motivation and we desperately need to take a step back, reflect and then get going again! Naturally there are many jokes that we should have stayed in Zimbabwe as we evidently can't cope with the pace of life in the UK anymore! Haha!
Please do continue to keep us in your prayers as we look to the future and try to piece everything together (literally and figuratively!) and that we smooth over many situations before the baby is born. Thank you again for your continued support and please do contact us with any prayers, advice or general affection!
God Bless,
Sophie x (and Greg and JT x)
The wonderful Ali who walked all those miles to raise the school over £1000 a few weeks ago is now in Zimbabwe and she's already been really busy. Here's her news:
Mon 8th Sept met all the teachers, received a very warm welcome. Duties for the day was to clean and restore the classrooms ready for first day tomorrow. In the afternoon Pru and I went to buy the groceries for the school term. The poor little car was bulging at the seams with the amount of goods we had bought.
Tues 9th Sept first day at school. Collected school fees and payments for swimming, dance and the trip to the airport and travel centre from the parents. Introduced to the children, many were shy of me. Attended praise and worship which bought a smile to my face seeing how enthusiastic the children were at singing the songs and doing the actions. Helped Pru with the recording of the school fees received, made a few minor adjustments to the finance spreadsheet which will hopefully make her life easier going forward. Joined the children at playtime, wow do they ask a lot of questions! Many wanted to hold my hand which was lovely and made me feel very welcome.
Weds 10th Sept met with the dance teacher to finalise the plans for the dance lessons. Developed a spreadsheet to identify which children were participating in which activities and who had paid and who was still to pay. Noises were heard coming from the drainage pipe, we got Wilson to lift of the paving slabs to find 4 puppies there.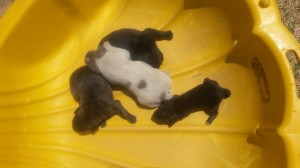 A wild dog from the golf course had given birth there and it was their mewling which could be heard. We took them to the Friends Animal Foundation who advised us that they were about 3 weeks old and needed to remain with the mother until the animal police could come and trap the whole family. So Wilson risked injury and put them back in the pipe. In the afternoon I assisted sherry with transporting the children to their swimming lessons. On the way there I took the boys with Leeshy and read to them whilst the girls had their lesson. How they managed to get in the pool I have no idea as the water was freezing! I helped the girls dry off and get dressed then took them back to school. Boy had they found their tongues by this point and I was bombarded with 20 questions from each girl which would've been fine but having to contend with an automatic car with a column shift, a pedal handbrake and wipers and indicators on the opposite side took all my powers of concentration. All the Children loved the swimming lessons and many told me they wanted to go in again! I then read to them whilst they waited for their mums and dads to collect them. This turned into a marathon session having to read 5 books but it was great to see the joy they had in listening to the stories. They all wanted to choose a book and had to break up a scramble to pick the book out! Roll on next week when I join them again 🙂
Thurs 11th Sept first day with Sean and the One Church projects. Over coffee he explained what he had going on and what I could get involved with. We decided today I would help with administration. He showed me around the project, the renovation of a community centre, home school and a small business centre before commencing with my list of tasks for the day.I made a list of the shopping needed for the kids day on Sunday, compiled the names of the congregation who said they could volunteer to help with the project and what skills they were offering. I then sorted all of the keys to the property with Terence, made an inventory, gave them all a colour keyring and created a key register for use when the centre is open. I also reviewed the property contract with a view to tailoring this to become a Shared Office Space Agreement for the tenants of the small business centre. I met with Niko the Finance Officer and had a very good discussion on how to document accounts and petty cash.
Fri 12th Sept day to get dirty! Worked with Neil, Terence, Nomore & Lovemore on putting up the beams and coving on the ceiling in the new church hall. Got absolutely filthy and had aching arms at the end of the day but thoroughly enjoyed it!
Thanks and take care,
Ali xx
Donate Now
If you would like to support the pre-school, you can make a one-off donation right now. You can pay by Paypal, or any Debit or Credit card.
THANK YOU!
(Please note these donations are not Gift Aid eligible, so for Gift Aid, or regular donations, click the Support link in the main menu above for details)