Hello Readers,
Sorry to disappoint but this is not Greg, Sophie or JT writing, My name is Emily. I normally live in England, but have had the privilege of staying with Greg and Sophie for the past 5 Weeks (with one more fun filled week to go!).
During this time I have mostly helped out at One Way School Harare, which they set up 4 years ago and is only growing stronger with plans for new classes coming into play shortly. Here I have helped to plan their first ever Science Week, which was a great success, and also the annual Sports Day.
We have also been able to visit some other projects in the local area. For example, we went to the new school that has opened in Mandebvu, where we cracked on with some painting, administration, and most importantly playing! Sophie also took me on a little walk around the actual village, where we met the most amazingly happy and playful children who showed us their games and even tried out some Yoga with Sophie as the teacher.
Another project we visited was Hatcliffe. This was much larger with many schools in that we went to look at. It is truly incredible the work that the people do there and you can really see how the children love and appreciate their schooling.
Amongst all this hard work we have had some fun, mostly in the form of visiting other places around Zim. The first of which was when we visited Pamuzinda, a safari camp, where I took part in an Elephant ride after Sophie and I went on a game drive to see the wildlife. It was a stunning place with amazing animals and meeting the elephants was a dream come true! A while after this Sophie, JT and I took the morning to visit Kuimba Shiri bird sanctuary. Here we saw a huge array of rescued and rehabilitated birds including eagles!
Our most recent adventure (and possibly my favourite) was to Victoria Falls. Sophie and I flew out Wednesday morning and took a taxi to the Shoestrings backpackers lodge. From here we had time to do a little sunbathing before we were taken to The Lookout Cafe where we jumped, flew, fell, screamed and dived over the Zambezi river. We took part in a half day of activities including: the Flying Fox, the Zip line and 2 Gorge Swings (which I had misunderstood completely and was not prepared for!!) . It was such an incredible experience and the scenery was beautiful!
We got back and met our dorm mates. One of which was a Norwegian guy can Oyvind, who accompanied us to dinner and out to Vic Falls visit the next day. Dinner was had at The Boma, a restaurant with a difference! As well as being an all you can eat African buffet complete with Warthog steaks and Eland meat balls (which were delicious) it was also an interactive show. So after we had been given native clothing to wear, eaten more than our fair share of dinner, including the infamous Mopani Worm (which we got certificates for) and watched the dancers do their thing, the waiters came around with drums for everyone and we had a traditional Djembe lesson. This was shortly followed by dancing and finally an all male acapella group that sang to our table. This is absolutely somewhere I would recommend a visit to!
The next day we made the walk down to Victoria Falls themselves. I was in awe at the power and beauty of the water and so thankful to God for his glorious creation (and this is only one small part of one country in this huge wide world!). The water level is really high in this season, so there was an astounding amount of water rushing over the cliffs and therefore the spray was huge, so its fair to say we got a little wet…. We were sad to say goodbye on Thursday evening, but knew we had even more to on our return.
Having come back to Harare we have run the annual school Fun Day and Kids church all in one weekend, so its all go here!
We are very much looking forward to sports day later this week and going to watch the cricket at the national pitch where Zimbabwe play India. It will be interesting to see what Zim are better at having already watched the Football team in their national stadium last week.
I am so thankful to Greg, Sophie and JT for their flawless hospitality, Love for life and allowing me to have this crazy amazing experience.
Emily 🙂
I write this blog on a sunny, Harare morning listening to Sophie through the office door reading a bible story about Samuel as the children giggle to the little drama that she's put the children into. It's a pleasant way to start the day as I've already had 4 children running into the office to 'boast' about their sticker charts being full because they got one this morning for 10/10 on their spelling test. I start with the good news because I admit that my head has been busily worrying about how we will manage the capacity of 150 children which our 5 classes will give us in 2016 and how we'll pay for the teachers for the new classes.
Finances at One Way School continue to be a stumbling block. My head swims with worries about whether out income is sufficient to commit to increased outgoings and if we don't have enough children registered.
But, Sophie and I have been reminded recently that it was God who gave us the challenge; "to educate children academically, socially and spiritually in a positive Christian environment." Therefore, preparing for the worst is not an option we can fathom. So, we've been putting together a budget and a staffing structure which would give the 5 classes of 30 pupils the very best opportunity to achieve to the best of their abilities. We believe that God will sort out the rest because our intentions are just to serve the children and their families as God called us too.
Because we wish to trust God wholly with the finances for His school we've also decided to reduce our school fee structure to make One Way School even more affordable for our families. We now charge $400 a term for a full day (including hot lunch, afternoon snack, extra PE lessons and a homework club) and $300 for a half day which finishes at 12:30 when formal lessons are completed. The cheapest school around us, which is run by the government (where children learn in class sizes of 55), charges $120 per term and they finish at 12. In addition to this cost they provide termly stationary lists for the children to provide the books, paper, pens, rulers and classroom equipment they require. Even bleach and toilet paper are included. I went into the city of Harare to buy the entirety of this list and it set me back a further $70, 3 hours of my day, $2 to park plus fuel. Suddenly $190 a term doesn't look so cheap I thought. So, although a parent would stay still pay an additional $270 a year to bring them to us they'll know that they're taught in a reasonable class size, not have to bother with shopping and in a positive Christian environment.
We are trusting God to bless One Way School as we try to serve those around us. Please pray for us to have 150 children registered and that they'll continue to make great progress despite the financial challenges which our school (and all schools worldwide) struggle with.
I have mentioned previously about my willingness to improve the levels of fundraising at One Way School.
Sophie and I want to creature a culture where parents, teachers and the local community fundraise for their school. When I was a young lad in Charlbury the CSA were great at this. I learnt from my parents and their friends who were equally amazing and are still fundraising for good causes (including ours) these days. I'm fortunate enough to believe that it must be all schools in England because at Haimo Primary School we used to raise over 1500 pounds a year. Just from one fete. It's an education that we've had that we've been keen to pass on.
We dabbled last year so this year we decided to establish an official PTA. So far they've raised $2800 towards building two new classrooms for our school. We've had dress up days, a fun day, CD's and hats for sale and a weekly tuck shop. Most amazingly, 'buy a brick' forms have been sent out where the children have been given the goal to raise $50 in $1 donations from their friends and family. One child and her family have managed to raise $195 this way – pretty incredible!
This has been growth larger than we could have imagined. But, we were approached yesterday from a mother who is a famous local singer who wants to put on a show for us to raise money. It's extremely encouraging that the local people are now thinking of their own ideas. We're so happy with the fundraising that is going on that Sophie and I are looking to step down from the PTA at the end of the year.
In our latest meeting one of the parents commented that no one has ever taught Zimbabweans about fundraising. So, as these children grow we hope and pray that they'll grow this 'culture' in their local communities to provide more opportunities for the wonderful people of Zimbabwe.
At One Way Ministries, we sing a song with the lyrics "He makes a way, when there's no way…" and my goodness is it the truth!
We daily face battles with the development of our school and the people we work with and the parents and children and the leadership and the country and its struggles with power and water and so forth….and sometimes the challenges seem incredibly big, incredibly tough and very difficult to see a light at the end of a tunnel! But HE makes a way, when there's no way!
Again, we are constantly challenged by the incredible faith children have and how daily their prayers and their comments show us that there is always a way, even when we are tired and confused.
There are a few points that recently have been a huge encouragement to our project and they are things that we had foreseen being huge problems, definitely not with solutions being found this soon!
Firstly, parents meeting. Greg chose to create a presentation and then invited every parents of children at our school to a meeting to discuss the past, present and future of One Way School. he detailed the financial and practical aspects of everything and the response was overwhelming. Not only were parents appreciative that we are being open and transparent with them, they have begun to initiate some ideas themselves for support.
A PTA is in the process of being set up with parents texting our administrator constantly every day pushing for a meeting to be started ASAP so they can get ideas going. They are keen to invovle every parent in fundraising and push for the Zimbabweans to take ownership of the project.
Their first project they would like to tackle, is the renovation of the swimming pool to allow for every child at our school to have swimming lessons weekly without extra cost and the need for transport out. This has been a dream since we opened the pre school but it may take around $3000 and so we have never had the funds to do this. The parents have decided that HE will make a way! So once their PTA begins, thankfully it looks like it won't stop!
Next, one of the major challenges we have faced since the beginning of the project, is the Ministries for Education and Health. It has often seemed that money may be the driving factor, however, over the past year, we have found that this is not necessarily the case and that if we persevere with relationships and jump through the multiple hoops they place in front of us, we do eventually see success!
One of the greatest achievements in this area is Auntie Prudence, our administrator. She has worked tirelessly since starting with us and has managed to form close relationships with both the district officers for health and education in our area. They are in constant phone contact and she is already able to begin the paperwork to have the whole Primary School registered with both ministries in the correct manner and without any excessive trials to work through. And from the meetings she has had in the last 2 days,things are looking incredibly positive in terms of the final documents!
HE makes a way! This post is mainly to encourage anyone and everyone who feels that sometimes there is just no way. Let me tell you, that it may take time, and patience and perseverance…but HE makes a way, when there's no way! We are so encouraged and want you to be to.
Prayer can make a difference!
x
2 and a half years ago, we moved to Zimbabwe. Today, we celebrate the second day of One Way School. In between then and today, an incredible amount has happened! We are so incredibly blessed and thankful to have the opportunity to work alongside the Zimbabweans in educating both children and adults and providing them with the highest standard of education that we can, alongside instilling core Christian values and good moral values!
The initial vision, for a preschool to open at One Way Minisitries, was envisioned by the late Mai Gatsi. We believe she would be so incredibly proud of how her vision has come to fruition and to see the achievements both the children and adults have made. This vision, is the founding reason we came to Zimbabwe, however, over the 2.5 years we have lived here, we have grown to love the country and the people and through the success achieved when opening the preschool, we found ourselves having dreams and visions of our own to grow and expand. Thus, One Way Primary School was created!
After considerable deliberation with the church leadership and some deep prayer and consultation with each other, we embarked upon a journey which was never going to be easy, but, if successful, was going to be amazing!
It was decided that January 2015 would be the opening of the Primary School, with Grades 1 and 2 (year 1 and 2 equivalent) opening at the same time. Thus allowing children who had left our preschool the previous year, to return immediately into the Grade 2 class. This created a need for 2 new classrooms, and a bigger office! With the ever expanding school, there was only so long we could keep falling over each other in our office the size of a broom cupboard!
We sourced a second area of the church building – the old social areas – as the best location for the 2 new classrooms. The structure was already there, therefore it would need renovating, rewiring, re plumbing and decorating, but structurally was complete. At the time, another church business was using these rooms, however due to the economic times, this was struggling and therefore was moved to a smaller location.
It was around this time, that we found out we were expecting our son! We would be lying if we did not say we had to think long and hard about whether we would be able to continue with the project, knowing we would be opening the school with a 2 month old baby in tow (he obviously knew this and that's why he decided to pop up a month early!) The original preschool took up huge amounts of our time, day and night, with very little time for much else- so naturally it would have to be very different with a mini human on board! We decided that the best option for us, would be to return to the UK to have our baby, remain there for the first couple of months, and return in time for the opening of the school. This however, meant leaving our first baby – the preschool – solely in the hands of the Zimbabwean staff team we have worked so hard with to train!
Naturally, the staff were nervous – however we had absolutely no concerns, and rightly so, as over the following few months, the preschool continued to grow from strength to strength, with the staff completing the 3rd term, graduation, Christmas and a school trip independently. We were so proud!
Over this 3rd term, we were fortunate to have a volunteer – Ali, offer to spend 3 months living and working with the project whilst we were in the UK. She was able to offer support to the staff at the preschool including finance and computer training, as well as supporting Charles (our contractor, builder, plumber, electrician, carpenter extraordinaire!) with the renovations of the Primary School.
Charles has been an absolutely incredible bedrock for the project and it is with absolute certainty that we would not have a Primary School ready for running today, if it was not for his incredibly hard work, determination and love and support for the project itself. He worked tirelessly and the effort has been richly rewarded!
Today, we are on the second day of One Way School – a Primary School with an Early Years Department- and it is with such joy that we attend work every day, spend quality time with each child and educate them to the highest level. The new school uniforms are smart, the children are enthusiastic and the school looks professional and inviting. The current staff team consists of 10 people, with Greg and Rumbi now the Grade 1 and 2 teachers. We also have the possibility of hiring a local young person – 19 years old – to help support in the Primary School and offer music lessons for whole classes and individually – what a blessing!
The standard of education already demonstrated in the workbooks at both the preschool and primary school level, shows just how dedicated the staff are to improving the education, and therefore the future, of each child that passes through our doors. We could not be prouder of the hard work everyone has put in, and are so excited for what the future holds.
The future plans, include adding one classroom each year to the Primary School, allowing for the current year group to continue upwards through the school. We would also love to build a library – books are so scarce here and if they are found they are extortionately expensive – we would love to be able to offer the children the opportunity to become immersed in reading through school – this is the foundation of education! We also still have the possibility of renovating the dilapidated swimming pool. And we would also love to fully renovate and improve the outdoor facilities we have to offer including a sports field. So just a few bits to keep us going!
For now, we are super excited to spend the next few months focusing on the continuing development of One Way School, settling the new children and improving the Grade 1 and 2 classrooms including resources.
We are delighted that there is the possibility of a team of people coming out to visit and help us develop around May time, and JT is being an absolute super star, coping well with the heat and charming anyone who is willing to chat to him! So many things to look forward to, and many things to look back on and smile at!
We look forward to keeping you updated as we progress with the project and vision, and would like to thank each and every person who has thought of us, prayed for us, supported us financially and generally kept a keen interest in what we are up to! We cannot do this without your support, so thank you!
God Bless,
Sophie xx
Mon 15th – Weds 17th Dec. Wow so much progress was made this week by all the team. We completed classroom one, all the walls painted, all the stone benches varnished and the floor polished with Cobra. The joke going around was 'if you stand still long enough you will either be painted, varnished or polished!' Honestly everything was getting a make-over! We also started on the walls of classroom two but because of the leaking roof only three quarters of this can be decorated until the leak if fixed.
Thurs 18th Dec. finally the makeshift shelves we'd made in the FBC Bank gave way and collapsed! The shop looked like a bomb had exploded! But is also a good sign that we are getting many generous donations from everyone 🙂 I managed to reconstruct the shelf and another new shelf using bricks as the legs, I've definitely earned my blue peter badge!!! Mercy then helped me re-sort, fold, and tidy the shop. It's looking great even if I do say so myself ! I opened the shop in the afternoon as tomorrow is half day. I also gave a food pack and a few clothes to Terence, Nomore, Mercy and Douggie for all their hard work around the place.
Fri 19th Dec. One Central was closing for Christmas and New Year today so we had half a day. I continued with redesigning the FBC Bank and also gave a few items out to a couple of guys who hadn't been told we opened yesterday. For the afternoon we (the staff) we all going to go and play crazy golf, unfortunately the weather had other ideas and it was rained off. Instead we went to Cork Road for ice cream yum yum! They make the best ice cream in Harare, I had a hokey-pokey milkshake….delish!
This is my last blog until
7th Jan
as my mum is arriving on 23rd Dec, so that just leaves me to wish you all a very merry Christmas and a great New Year. Thank you all for kind words of encouragement you have given me.
Lots of love,
Ali xx
Still going strong!!
Mon 8th – Weds 10th Dec. As the preschool is now closed I was able to dedicate full days to the primary school and made good use of my time by painting all the outside of the school using an African stylee ladder made from bamboo. The gap between the rungs were for a giant and after 3 days of hoyking myself up and down it my legs were moaning and groaning….a major step workout!!!! In addition to this I painted the inside frames of the main entrance windows, and painted a skirting board in the girls toilets free-hand. Wilson & Patience also came along to volunteer so excellent progress was made this week. The walls of both the girls and boys toilets were painted, along with the windows, a new corrugated roof was put on the staff toilets, and the first coat was given to the walls of classroom one. It's very satisfying to see it coming together now.
Thurs 11th Dec. Over at One Central preparations were in full swing for the Ghetto Christmas production taking place
Friday
and
Saturday
evening. After helping cut out hundreds of flyers I went over to the shopping mall and handed these out to passers-by. After lunch I went back to the shopping complex and went into all of the shops inviting their staff and leaving them flyers. For those of you who know me well will know this was totally out of my comfort zone but I enjoyed it and everyone was receptive to the flyers and many stopped for a chat 🙂
Fri 12th Dec. Upon arrival Debbie and I started to sort out the FBC Bank as we had had a lot of donations given over the last 2 weeks. Whilst we were doing this a guy arrived who owned an orphanage and wanted clothing for 300 4 to 17 year olds, so we happily sorted out these ages from our children's clothes hoping this would be a nice Christmas present for them. Thandie then popped in and asked if I could do her a favour by driving her and Douggie to the shops to pick up refreshments for the Ghetto Christmas event. 'Sure, no problem' was my reply, not realising they were going to take me all over Harare including directly into the centre. I was exhausted by the time we got back as Zim driving can be quite chaotic at times! And there was no rest for me as it was time to open the FBC Bank. I was very strict with them this week and accepted no nonsense! I had all the excuses thrown at me but I didn't budge. I wanted to make sure they were making purchases for their own use and not to sell on for drugs or alcohol. A bit of tough love given out…..'no, that doesn't sound like you' I hear you all cry!
Take care,
Ali xx
Mon 1st Dec – final week of school and Christmas fun morning. We had a bouncy castle, pony rides and face painting for the children to enjoy, a well deserved treat after working so hard all year. I had a good on all three 🙂 . The white pony even had its tail and mane dyed green giving it a sort of unicorn look! Some of the children were frightened of the ponies and the bouncy castle, I wasn't able to over come their pony fear but I certainly conquered their bouncy castle fear by taking them on the edge part and holding their hands letting them bounce away happily, next thing I know they've jumped into the main body of the castle joining everyone else. We then had cake supplied by Greg and Sophie to top the morning off. In the afternoon I continued to paint the wall in the primary school playground, my tan didn't get much of a top up as it was quite cloudy today.
Tues 2nd Dec – Swimming Gala. It was time for the swimmers to show their parents what they had learned over the last term, so Sherry, Pru, & I took all 20 swimmers to the swimming pool. Leeshy looked after the dressing and undressing process, Sherry instructed the children on what to show their parents whilst I took the photos. Each Grade 0 child received a certificate and all parents were given a brief synopsis of their child's progress. Popcorn and cakes were handed round, a great morning was had by all! In the afternoon it was back to painting the playground wall and working on my tan!
Weds 3rd Dec. Although we were open for school we had no children so the teachers commenced with cleaning up the classrooms and I finally finished painting the playground wall, along with roasting myself in the sunshine!
Thurs 4th Dec. Just when I thought I was going to have a rest from painting Sean asked if I would paint one of the rooms in One Central, which I happily obliged. First though I had to scrap the walls of all loose plaster and wall paper. I managed to give the room its first coat of emulsion before the end of the day but it will need a second coat….
Fri 5th Dec – Another Graduation Day! This time at Anne's Children Centre where Sherry is the principle. It was a lovely ceremony, very personal with all of the classes showing their parents what they had learned over the year. Some were as young as 2….very cute! In the afternoon I returned to One Central to give a second coat to the room I'd painted yesterday. In the evening I attended the One Church Gold Awards event, chance to put on my frock! It was great fun with lots of humorous speeches, rivalry between the community groups, dancing, good food and I won the Gold Volunteer Award! I was very flattered to be recognised for my efforts but also very embarrassed too hehe!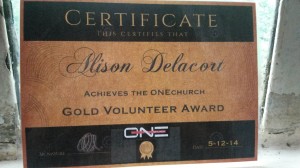 Take care,
Ali x
Mon 24th Nov. I started the day painting the new gate to the entrance of the primary school. It was a very pleasant job as everyone who walked past greeted me and asked how my day was….total strangers!!! I then gave the door frames a first coat of gloss. After giving the teachers their computer lessons I went swimming with the girls as I hadn't seen them swim since the beginning of term. They were thrilled to have me watch and very eager to show me what they could do. They are doing very well and some were even able to swim from the deep end into the shallow end. Sherry is doing a fantastic job
Tues 25th Nov. Today I started off giving a 3rd coat of gloss to the unhung doors and a 2nd coat to the door frames. I then returned to the primary school to give Rumbi another lesson on Excel; she is doing so well I showed her conditional formatting which again blew her mind hehe, after getting her head around it she was very impressed with how powerful a tool it is. I then read to the nursery class and then the grade zero class. Both wanted the new Land of Kachoo stories, it seems these have taken over from Super Daisy! We had 2 birthdays today, Timothy and Nadine, so party time all round, although the train cake made my fingers and tongue turn blue! In the afternoon is was the boys swimming run, like the girls, they are doing very well. The gala on Tuesday should be a very good show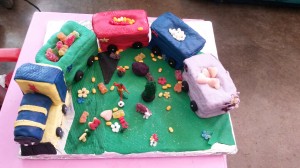 Weds 26th Nov. I started to paint the wall around the playground, an opportunity to top up my tan, even the backs of my legs caught it today yippee!!! I decided to introduce Leeshy and Lorraine to Excel, I certainly have a challenge on my hands with these ladies hehe! Although with a bit of patience and practice I have every confidence they will pick it up
Thurs 27th Nov. Today at One Central I had to sort out the FBC Bank after last week as it looked like a bomb had exploded! We also had some new donations which I stocked and stacked.
Fri 28th Nov – FBC Bank Day. This week I had plenty of security guards and we allowed only 1 person into the shop at a time. This meant that the clothing was kept tidy and only the piles they were interested in were looked through. It was a pleasant experience helping the guys choose what they wanted and also recommending items for them too. Maybe I'll become a shop assistant when I return home!!!
Sat 29th Nov. Usually I have the weekends as free time but today was an exception. I was invited to another graduation ceremony this time in Hatcliffe, an area of poorer people displaced after the governments 'clean up' exercise. I was very honoured to be invited by Norma, the principle, whom I had met at One Central also volunteering. I was treated like visiting royalty and many wanted photos taken of their children with Sean and I. The children was so cute and adorable in their yellow and green uniforms and their reciting of verses and songs had the audience beaming with pride. I assisted Sean with giving out the graduation certificates and prizes. For me it was also very humbling to see the tiny shacks with polythene walls and tin roofs a lot of the residents live in.
Take care,
Ali x
Donate Now
If you would like to support the pre-school, you can make a one-off donation right now. You can pay by Paypal, or any Debit or Credit card.
THANK YOU!
(Please note these donations are not Gift Aid eligible, so for Gift Aid, or regular donations, click the Support link in the main menu above for details)